My hands and feet are almost always freezing cold. I should probably do something about it, like exercise to make my heart pump harder or grow more blood. But there's nothing more pleasant than holding a hot mug of tea with cold hands or moisturizing my feet and putting 100% cotton socks on. Which is what I'm doing right now, and the feet thing might sound weird but it is the MOST comfortable thing of all time. Especially when done in a warm bed. The past 3 days have been amazingly sunny in Vancouver, and also treacherously cold. And by treacherous I mean 2 degrees. I know it's like minus 30 everywhere else but like I said, lack of blood to the hands makes for uncomfortable outside times. Today was my one day off this weekend so Jeff and I spent it exploring Chinatown. We went to Dr. Sunyatsen gardens and watched a duck ice skate/walk on a frozen pond and fall through the cracks a few times, CUTE. We got bubble tea in Tinseltown! I've been having mine with Tapioca pearls for the past 3 years and a few months ago a friend introduced me to Coconut pearls which taste nothing like coconut (thank god) and I think they taste way better. Win! Also, while we were in Tinseltown, Ryan Kesler was doing a signing! We had no idea and didn't really wanna wait in line so we/mostly I gawked at him from a floor above. For those of you reading from not in Vancouver, Ryan Kesler is from the Vancouver Canucks (our hockey team). So it was a pretty big-ish deal.
We were also in Tinseltown to go back to an art gallery that had artists who created custom Toms shoes. I love Toms, a LOT. Except that the back of them crack…BUT they are ultra comfortable and awesome anyways!
Alright! Here are some of my remaining pictures of my Harry Potter souvenirs.  This one is my wand, obviously. I was one person away from having my wand chosen for me by Olivander. But since I didn't get chosen I spent 30 minutes looking at every single wand and choosing the coolest looking one. Yes it's real and yes it works. =)
Everything in the HP theme park is totally authentic looking. These Bertie Botts Every Flavoured Beans did look and taste like JellyBellys but I think JellyBellys stole the idea. There are actual gross tasting ones in here that I had to throw out a few. I've already eaten most of them, but you get the idea!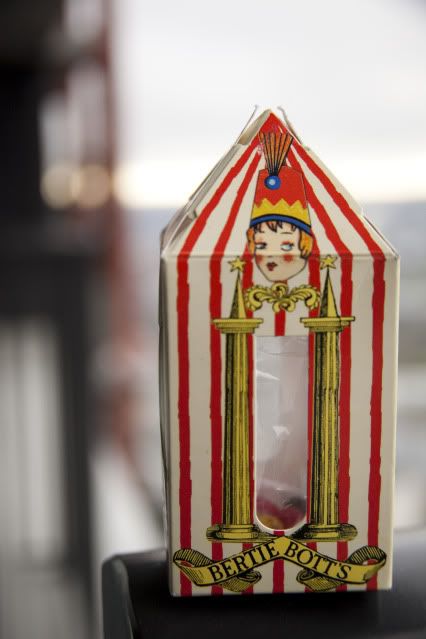 The sunsets, as well as my dreams lately, have been intense! The lighting that comes into our places is unreal. It only lasts about 20 mins and as I was taking this next picture, the 3 i took right after it all had less and less color and brightness. Self Shadow Portrait!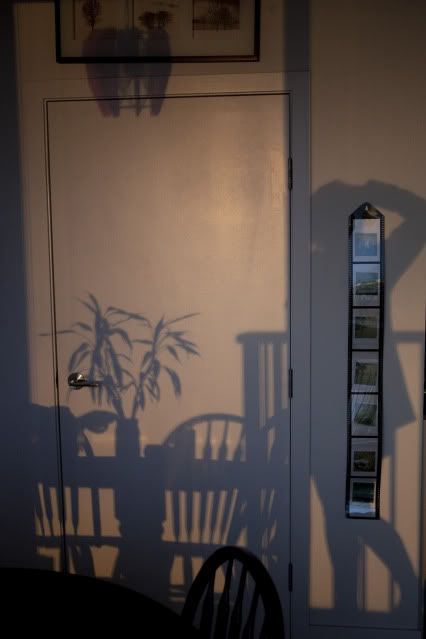 Aaand thats about all I brought back. Minus a Snitch pin that I broke and a mug that changes color as you pour hot water into.
I leave you with a picture that Jeff and I took at a park last weekend. Can't wait for it to be above 10 degrees! It's all I ask!