One thing I noticed whilst at Sasquatch is that half the people there were wear Tom's!
I'm probably a couple years behind on this trend, but ever since I saw them I wanted a pair! It would mean breaking my "no buying shoes over $30" deal that I have with myself, but they give a pair of shoes away to poor kids for every one that is bought! So I'm basically buying a $30 pair of awesome shoes for myself, and someone else. =) But if anyone would want to get me a gift, I found my ultimate favorite pair…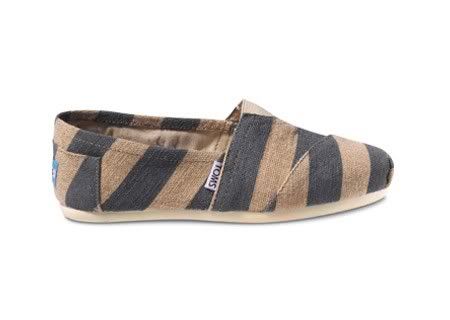 I'm a size 8.
These are some point form notes on what I've been up to the past week:
– Ate a DairyQueen Oreo Cheesequake
– Made a surprise trip to Langley to visit kinda long lost friends.
– Procrastinated on my portfolio for the last time! I mean it Natalie, this is the last time you're going to sit on a couch to relax!
– Assisted my internship photographer during the Leo's, met Dan Mangan sort of, met a girl from NewMoon but I didn't know she was in New Moon until the next day, and shot the red carpet like I knew what was I doing. All of this and more took 24 out of 48 hours to do.
– Got the new BBC documentary Life on DVD. Learned about frogs that jump off trees Avatar style and don't die. Thanks Stege!
– Found a few more blogs to check on every single day. Like HearBlack, and Jamie Delaine.  For me, reading blogs is like watching tv shows.
– And made a plan to meet Rebecca in ten years at the top of the Empire State building. I can't wait for this!
This is a preview of my portfolio, which I should probably be working on way harder than I probably am.