Happy relaxation day! I haven't been this stress free since I was in Disneyland the first time. Which was 2 years ago!
Speaking of which, I'm wearing my Pirates of the Caribbean ride necklace today for the first time in ages. I will wear it from now on!
So here's the update on my life since the last update: I photographed a family reunion/company BBQ two weekends ago. I won't go into detail but my favorite shot of the whole day was a really neat one of some ketchup bottles. But I'm not going to show you that one. Somehow Antonia got suckered into coming too =) Needless to say I owe her a movie date and a slumber party, but this time we will stay awake!! And not fall asleep on the grass watching E.T.! Which happened the day before the BBQ.
First item!
Zombie Walk! I felt really weird not being dressed up. I think I've participated three times already, but this year I decided just to take pictures, whatanidiot. Always dress up! I wish the whole city was into flash mob type things. It would be amazing to see 200,000 zombies at once. SO SCARY FOR REAL! I don't even know if that number is anywhere near accurate, probably not.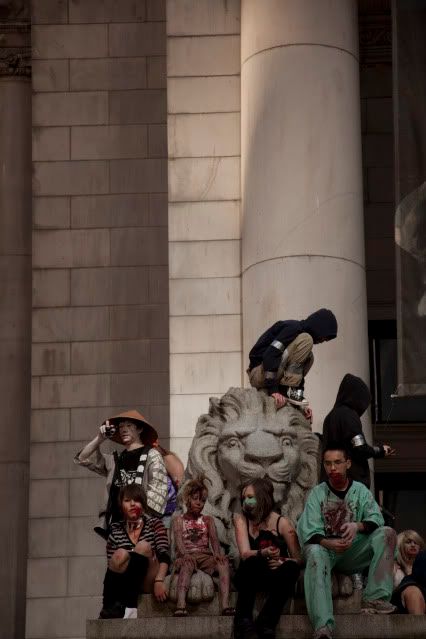 This guy is neat! I loved all the costumes that were a character+zombie. Like, not just a human zombie, but a radioactive nurse zombie!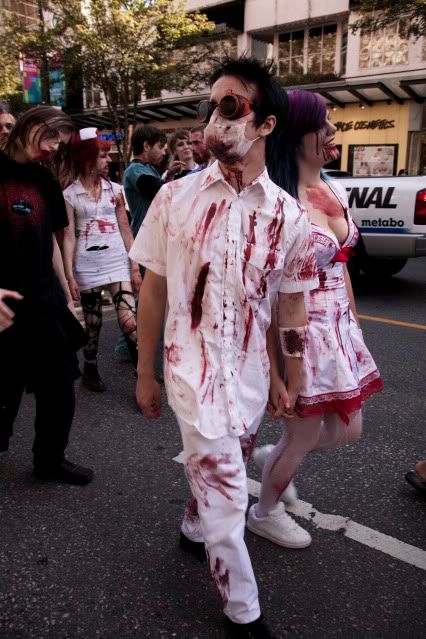 Okay Japan, you win. Cute eyes! Cute crown!
I also got a picture of a bus, covered in blood, with Trevor Linden's face on it. I'm sure he doesn't mind..
Oh but its a horizontal, and this is vertical picture day only, so you can't see it!
Guess what I got!?
Yep =)
You can see I wishlisted them in an earlier blog.
Jeff got them for me which makes them all the way better. He hid them inside our cardboard Wall-E, and said he(WallE) had a surprise for me. i LOVE surprises, of any kind, always. The only thing is that he got the wrong size(nothisfault), and the only store in the entire Lower Mainland to have my size was the one in Richmond. But I love adventures so i went to Richmond Center, traded my shoes, put them on in the bathroom there, got a Rooibos Chai Latte from Blenz(favoritedrinkofalltime), and went on my way, which just so happened to be the beach where I played with my other best friend Azra(Zeynep'sdaughter) =D
And thats pretty much all I have to say about that.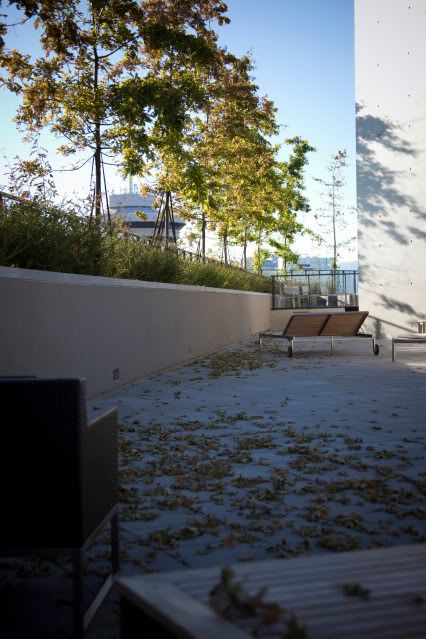 This is where I blogged from today. Dear Natalie, never take this view for granted! Always remember that you had to look at a gas station for 2.5 years before you came here!
Duly noted.
Okay I'm going to move onto another leisurely activity that I love, READING. Still reading Girl with the Dragon Tattoo, I really didn't like it at first but it's SO good now! Speaking of books, I read the Secret Life of Bee's a few months ago, and watched the movie last night. I don't think a movie has ever copied my imagination as good as this one did. Everything in the movie was exactly as I pictured it. And Dakota Fanning is amazing, and apparently Alicia Keys is the super pretty black woman!
Before I go, I have to tell you, I'm going to Cirque du Soleil tomorrow. SO CITED. Will blog about it later.
And since you've read this far, I suppose I can show you the Trevor Linden photo.
!!